Climb your own "Everest" with Everest Challenger®!
Introducing a great, fun, interactive teambuilding and leadership tool about climbing Mt Everest, and geared towards:
Workshop/seminar leaders
Project management professionals
Educators and teachers
Human resource development officers
Facilitators
Adventure-learning / experiential educators
Consultants
In Everest Challenger®, the world's first tabletop simulation of climbing Everest; teams of between 5-7 participate in an indoor table-top challenge simulating the leadership dilemmas, challenges and team behaviours to take your team to the top (while keeping your integrity!).
CLIENTS – who have used Everest Challenger® include:
International Flavours and Fragrances (IFF)
Jones Lang Lasalle
Lenovo
Bunge
Ministry of Health Holdings
FEDEX Global Leadership Institute (Licensee) – U.S. Licensees
FEDEX Brasil – Brazil licensee
University of Georgia (Terry College of Business) – U.S. Licensee
Chartis
UBS
L'Oreal
Rane (India)
Ministry of Health Leadership Centre (Singapore)
Taiwan Sports University – North Asia licensee
Duncan Chessell  – Australia licensee
Blue Peaks Consulting – South Africa licensee
KwaZulu Natal University – South Africa licensee
Blueprint Leadership – USA licensee
Hundred Camps Pvt Ltd – India licensee
Aarvi It Services – India licensee
AL Consulting – Spanish licensee
Exploratist – Romanian licensee
WildGuanaBuana – Egyptian licensee
CRICT consulting- Malaysian licensee
Equlibria – UK licensee
Luis Macklif – Ecuador licensee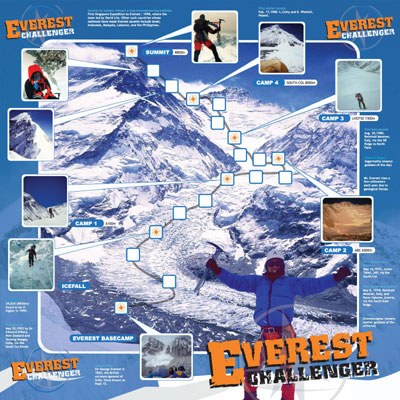 Teams will 'climb' Mt Everest with almost all the authentic constraints of an expedition, brave foul weather and other obstacles. With the assistance of the workshop leader, teams will question their own assumptions on matters such as:
Leadership effectiveness
Team dynamics and selection
Collaborative vs. competitive behaviours
Risk vs reward attitudes
With a great half-day format for the game, experiential learning facilitators or workshop leaders can use this tool to provoke further progress on conference goals, optimise energy levels in lengthy meetings or multi-day events and/or draw metaphors to the advantage of the meeting's outcomes. The game is ideal of those aged 18 and above; and now available in Spanish and Portuguese versions.

Great for:
Teambuilding indoors
Workshop participants desiring a more cerebral experiential challenge
Optimising energy levels of multi-day meetings
Motivating staff
Giving new insights, and a complement to any existing leadership or team development process
Workshop leaders will benefit from a detailed facilitator manual, guide cards, video clips and dedicated online support to help them introduce a new way to develop teams and have fun at the same time. Depending on georgraphical location, a train-the-facilitator programme may also be conducted. Licensing and upgrade options exist.
See http://www.everestchallenger.com for more details, or our Facebook page with up to date videos, and photos from around the world, or contact for more details