Something Lost, Something Found:
Adventures and Lessons from the Mountains of Bhutan.
By David Lim, for CFO Magazine, June 2013, and Life Without Limits leadership newsletter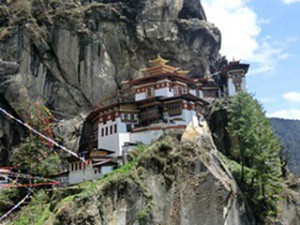 Just recently, I was privileged to visit the mountains of Bhutan. As it would take far too long to walk; and unlike the mystical Guru Rinpoche, who rode a magical flying tigress; I had to fly by DrukAir, the nation's national carrier.
This trip would be a far cry from my usual mountaineering projects or expeditions, which normally eschew most forms of 'support' whilst on a climb. Together with my wife, we had the support of a qualified trekking guide Tshering Penjor, a cook (Sonam), a horseman ( Tshering) and his assistant ( Kinlay). The 10-day trek would summit no mountain (as mountaineering has been banned in Bhutan since the 1992). But the trek, known as the Chomolhari trek, would take a horseshoe-shaped loop; covering 137km, and cross two high passes of nearly 5000-metres in height. Bhutan as long been seen as a bit of an exotic destination, the last Buddhist monarchy in the world.
An introduction of a national assembly by popular vote in 2005 brought a semblance of democracy to the small land-locked nation. But best known to a well-read traveler is that Bhutan has controlled who visits the country, as well as what values it wishes it's citizens to uphold. Not only is there a whopping USD$250 tariff chargeable per day to ensure it's policy of "high value, low volume" tourism, there is a huge emphasis on preserving the environment (a compulsory school subject); and a focus on Gross National Happiness as a measurable index to assess the state of the nation's well-being, rather than Gross National Product.
It's hard not to compare Bhutan with it's similarly landlocked, and more famous neighbour Nepal. Both have stunning peaks, the goal of many mountaineers and hill-walkers, and both are challenged to keep a balance between development and preservation. In the space of 20 years from 1990, Nepal lost, through deforestation and poorly controlled forestry management, 25% of its rain forest. Bhutan actually gained 7% through careful forestry policies.
The trek we had planned was hampered by 8 days of bad weather with only 2 really good days. The 2 good days were really magnificent, with views near our 4000-metre campsite of Bhutan's famous 6000-7000-metre peaks – Chomolhari, Tserimgang and the elegant spire of Jitchu Drake – surely one of the world's most beautiful peaks; and climbed successfully by my friends Doug Scott and Vic Saunders 1988.
What I learned from Tshering was the practice of 'detachment'. In Buddhism, there is a belief that much human suffering is caused by desire and attachment to material things. Detachment helps balance the spirit; reducing the ever-present elements of human greed and wants. And yet, if unbalanced, leads to torpor and a lack of motivation to do anything. So in that vein, an almost obsessive fixation on climbing to the summits of these peaks must seem strange, even somewhat repulsive to some people. A few days later, we were on our own; Tshering having had to return to Thimpu to tend to his father who had suffered a stroke. We gamely struggled on, with the other three, none of whom spoke much English. To make matters worse, we experienced driving snow on most days; and narrow trails made muddy and slippery from the rain and snow. One day, the weather and the conditions meant we had to struggle though nightfall to make it to camp. Dark thoughts, and complaints coursed through my thoroughly modern mind. And yet, throughout these challenges, our Bhutanese 'crew' managed to remain calm, and stoic. Once again, the mindset that even these hardships will pass; just as any transient happiness will also pass , seems so central to their way of thinking. Each day's 10-mile hike through difficult terrain was met with equal emotional intensity as was the final stretch to Dodina, and 'civilisation'.
Just a few days prior to our trek; and not too far away, on Mount Everest in Nepal, an unfortunate incident occurred. Three highly skilled professional climbers, including climbing aces Simone Moro and Ueli Steck were involved in an almost unheard of fight of epic proportions, high on Everest. The complete facts are yet to be known. However, what is known so far is that they were establishing a new route in the Everest-Lhotse area and climbing on the Lhotse Face, a 1000-m high steep, icy face on Mt Everest. The face is located between 6500 and 7500m. Most of the usual Everest climbers do not venture there until an elite team of climbing Sherpa mountaineers, have completed their work in fixing the safety ropes on that section.
Apparently, the three westerners were climbing unroped, and above the Sherpas when some ice was allegedly kicked down, accidentally, hurting one of the Sherpas. Some angry words were exchanged. The sherpas broke off their work, and returned to Advance base Camp at 6500m. When the foreign trio returned to their tents at the same location, they were beset by an angry group of Sherpas, numbering up to 100. Stones were thrown and death threats uttered. Some other climbers intervened. The trio sustained minor injuries and cuts, and retreated to basecamp. Later an 'armistice' of sorts was established by senior Nepal liaison officers and the Sherpas, with both parties apologizing to each other and commitments made to work more closely and peacefully henceforth.
I can't help feeling that somewhere in the past 20 years, some of the magic in Nepal has been lost. Yet something wonderful has been found in the way Bhutan has risen to meet the challenge of modern day ego, greed, and most of all, "attachment" to things of this world. I think the Guru Rinpoche would have approved.
Visit http://www.everestmotivation.com to find out more leadership and team solutions by David Lim
LOOKING AHEAD IN MAY 2013
The team has been wildly busy in April with keynotes by associates for Standard Chartered Bank, and teambuilding for the Swire Group. David was engaged in two keynotes for Walmart in their Bentonville Global HQ in Arkansas, and May will see us engaged in Shanghai for the Mars Group, the Select Travel Conference, the region's large Toastmasters Convention and Fuji Xerox in Melbourne.
Contact us to discuss your leadership and team needs for the 2nd half of 2013!