Setbacks can happen at anytime, and they have a habit of not giving you any warning. But what matters more is  what you do about them that produces a good result. In 2009, we (my climbing partners Grant Rawlinson , and Mohd Rozani) had planned to visit a remote glacier in the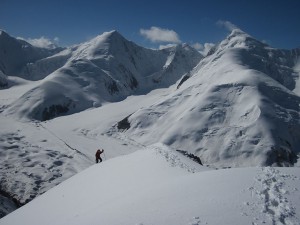 Central Tien Shan mountains in Kyrgyzstan. The "Heavenly Mountains" as they are know, stretch over a zone including parts of Kazakhstan and far western China. It's the most northerly mountain range with any peaks over 7000-metres.
After some years of research, the benefit of a couple of aerial reconnaissance missions on our 2000 and 2005 climbing expeditions, we identified a number of handsome pointy peaks in the 4000-5000-metre range that were still ' virgin' peaks. While up to 500 people may summit Everest each year, it's amazing how little attention the hundreds of yet to be climbed mountains of the world get. And that suited as fine.
The mindset of a climber attempting these remote peaks however, needs to be different. These days, Everest is about maximizing success by the employment of sherpas, fixed rope, large numbers of bottled oxygen, weather reports via satellite phones and all manner of means to help the average climber on the trade route succeed. Climbing virgin peaks, on the flip side, demands a certain sense of imagination, and a high tolerance for a lack of certainty of success. After all, very little documentation of climbs have ever been made of peaks that well, haven't been climbed before
Once our Kyrgyz Army helicopter dropped us off at the 3950m point of the Mushketova Glacier, a wave of a hand and a "see you in two weeks" parting shot, the big white craft chukka-wukka-ed its way down the glacier and disappeared from view. So there you are, the only humans in a hundred square kilometres and a four-day walk to the nearest road should anything happen. And if you've forgotten something, there isn't a 7-11 around the corner.
After some exploratory walks, we focused on climbing a straightforward snowy peak. The weather was fine, the skies blue, and we puffed our way up a pretty ridge to top out in the late morning. We called the 4468m peak " Kongsberg Peak" after one of our premier expedition supporters, and returned to our humble tents below on the glacier. A peak that had merely an "X" marked on the map now had a name.
A real teachable moment happened a couple of days later when we awoke to attempt an ascent of the peak adjacent to Kongsberg Peak. It snowed all night, and at 330am when we began to prepare for the ascent, it hadn't stopped. This was not lethal weather, but just unpleasant and difficult. Rozani announced from the confines of his other tent that he wouldn't be venturing out that day. And so I sat there, rocking back and forth blowing some warmth into my fingers wondering what to do. For a few moments, self-doubt and pessimism set in. That is, until Grant looked to me and said, with a hint of sarcasm,
"Dave, mountains aren't climbed while sitting inside a tent".
I turned to him and said, "You're right. Let's just go and see what happens".
And so we did, picking our way in darkness across the glacier, with the glow of our headtorches; checking in with each other every hour or so. We spent time discussing the terrain underfoot, the hazards, the weather. This non-stop team communication carried on as dawn broke. Then at 7am, something happened – the sun came out, and the clouds broke apart. Within a short space of time, we were bathed in the warmth of a fantastic sunrise. Soon we climbed, unroped up a rocky ridge, and made the summit in brilliant weather. We named the 4447m peak Resilience Peak for obvious reasons, and returned to camp, elated that we had taken such a risk that morning. But more importantly, we had chosen to take our chances (versus being pessimistic), communicating as a team, and pulled off the second virgin peak ascent of the expedition.
Later in discussions, we realized that mindsets on mountains mirror situations in life. How are you communicating in times of challenge? It's about building trust by transparently communicating fears, opportunities, risks and progress. At a critical point in the morning, Grant had supported the idea of for moving ahead, and assessing the situation as the elements of the climb revealed themselves. By just taking that chance to go, instead of bemoaning our bad luck with the weather, we positioned ourselves to reach the top when it mattered. On our return, we explored the mindsets of success with Rozani, and several days later, as a united team of three, tackled our hardest climb yet on that trip, and summitted the 5000-metre Majulah Peak, the highest virgin peak yet climbed by South East Asian mountaineers.  I don't think this was by chance. You get more successful on purpose, not by accident.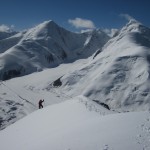 But most importantly, when it comes to seizing opportunities in the face of uncertainty, you won't find success by sitting inside your tent.
Reprinted from the May/June 2012 edition of CFO Magazine

DAVID LIM IS A LEADERSHIP AND NEGOTIATION COACH. Connect with him on https://www.facebook.com/everestmotivation, OR subscribe to his free e-newsletter at